Animals' Voices 
independent animal rights group
We are an independent animal rights group that aims to combat speciesism in our society through peaceful effective street activism. We were founded in Bremen, but in the meantime we also started groups in Bochum, Duisburg and Düsseldorf.
If you have talked to us during an action and would like to get more information, you will find interesting documentaries and useful links here on our website. You can also ask questions about veganism in our forum. If you're already vegan, motivated and want to work with us for animal rights? Then just message us!
Do you want to get informed?
Since 2017, we have been organizing regular demos, so-called Cubes of Choice. We show video material of standard practices from the animal industry – mostly from Germany. We then talk to interested pedestrians, who stop by on their own initiative, about animal rights and also provide information about the impact of our consumption on the environment and health.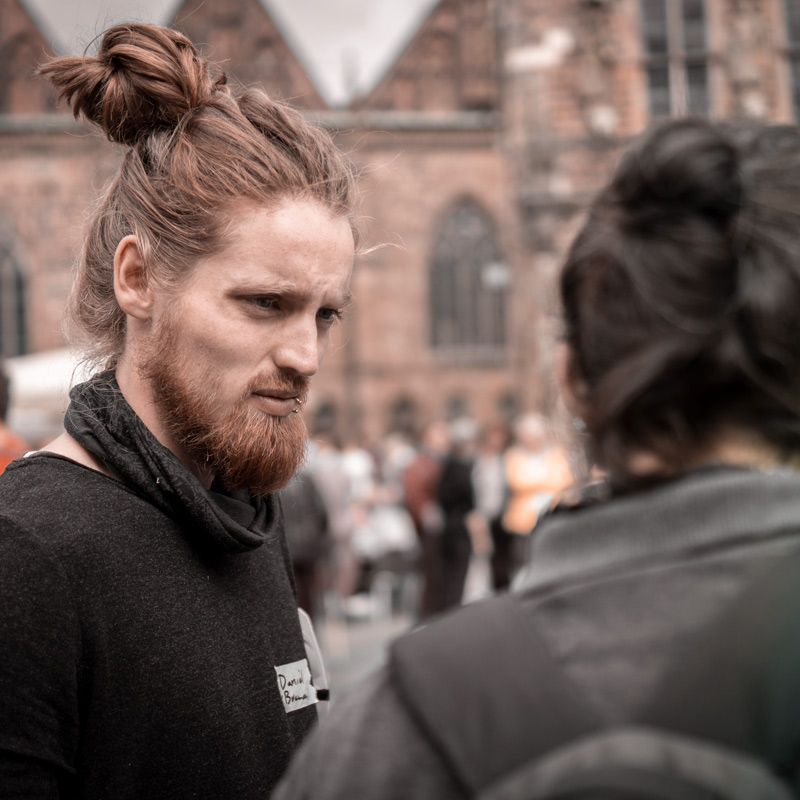 The core of our group consists of about 60 activists from Bremen and nearby who regularly take part in our actions. Click here to find out how to participate.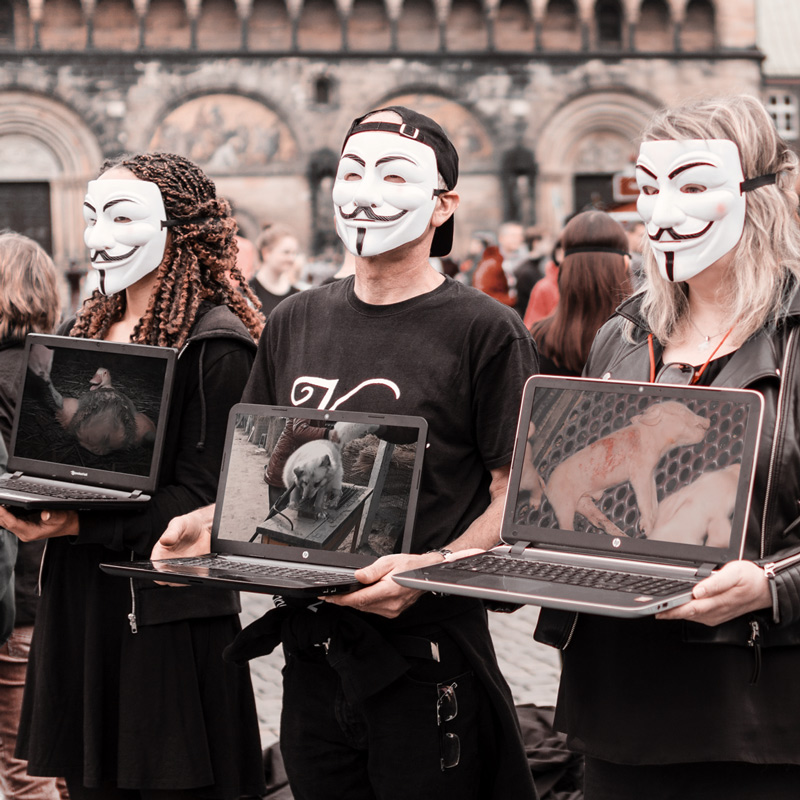 In Bremen we have so far organised more than 75 events. We also cooperate with other animal rights groups, for example in marches or vigils.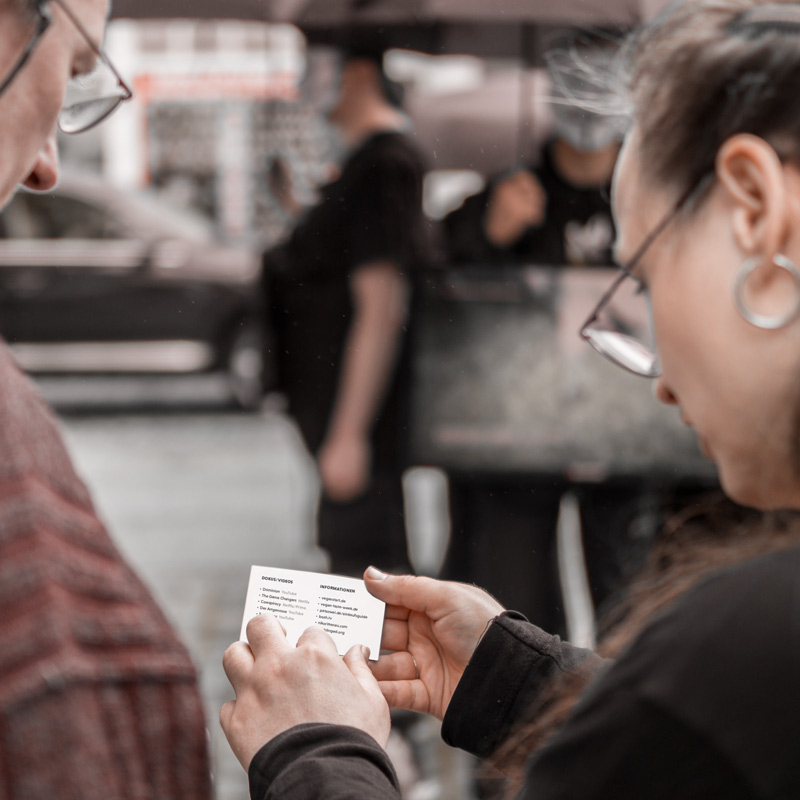 After a successful conversation we give the pedestrians business cards with useful information and links. You can also find these here on the website: Useful Information.
Why animal rights?
Many people buy animal products without being aware of the suffering they cause. The cruel reality to which animals are exposed to, for example in fattening facilities, fur farms, animal testing laboratories, slaughterhouses or in the entertainment industry, is ignored. Therefore our goal is to make speciesism – the discrimination of animals based on their species – visible. For this reason, the majority of our activism consists of educational work and personal conversations with pedestrians (outreach). We want to give people the opportunity to take a critical look at the consumption of "products of animal origin". Consequently, we advocate a vegan way of life and want to locate it as an alternative in the collective consciousness.
Our goal:
Non-human animals have the same interest as we do in their lives and bodily integrity. Therefore it is our goal that all forms of use of non-human animals are abolished. We are committed to ensuring that animals can live self-determined lifes in freedom, independently of human needs.
Activists wanted!
If you can identify with our values and activism and would like to support us, we look forward to your participation. Everyone is welcome, no matter if you are new to activism or an experienced animal rights activist. Just message us and we will add you to our group.
Our Blog
Here you'll find interesting blog articles on topics such as speciesism, B12 supply and absorption – written by our activists who are experts in their respective fields. We hope you enjoy reading!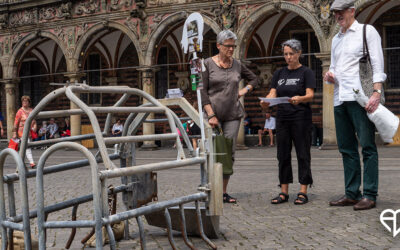 Bundesweiter Aktionstag gegen den Kastenstand Text & Foto: P. F.| Rede: Sabine Gräfe Am 26.07.2021 haben wir die sofortige Abschaffung der Kastenstände für Muttersauen gefordert. Mit 25 Aktivist:innen waren wir auf dem Bremer Marktplatz präsent und haben Videos...
read more
Documentaries, information and recipes
Here you will find interesting documentaries on topics such as veganism and environmental protection. We have also compiled an overview that shows how easy it is to consume the supposedly critical nutrients such as vitamin B12, iron or calcium in a plant-based diet. There are also tasty recipes to help you get started in the vegan lifestyle.
Any questions?
In our forum you can ask questions about all areas concerning plant nutrition or a vegan lifestyle. In our animal rights group we have experts for various areas, e.g. who also professionally deal with environmental protection or nutrition. You need tips for the perfect vegan cake? We can provide these, too – just drop by!
Cube of Choice – FAQ
Here we answer the most frequently asked questions and explain the course of our demonstrations. For further questions please use the contact form or our forum.
Who we are
Can I join?
We welcome all people who can identify with our ideology and our form of activism. It doesn't matter if you have experience or are new to activism. Everyone who wants to join us should live vegan or at least have the intention to do so.
What do I have to bring?
We recommend that you bring some drinking water and a small snack for in between. If it rains, you are welcome to bring an umbrella. Masks, signs, info cards and screens will be provided.
How can I prepare myself?
Under the following link you will find many helpful outreach tips and videos. Especially worth reading is the eBook by Earthling Ed, which answers all "arguments against veganism" (multiple languages): open GoogleDocs
Which links, documentaries and books we show the pedestrians can be seen on our info card: open card (PDF)
Why the masks?
The masks serve several purposes:
They attract the attention of pedestrians, even from far away.
They arouse curiosity because the Guy Fawkes masks are known worldwide and stand for the fight against oppression and injustice.
They form a kind of optical barrier and thus make people who watch the videos feel less observed.
How long do I have to stand in the Cube?
There is no limit to how long you stand in the Cube – you decide that all by yourself. If you give us a hand signal, we'll get you out at any time and you can take a break or have a conversation. Please note that we generally require all participants to stand in the Cube for a certain time. If you have a health condition that prevents you from standing in the Cube, please contact the event organizers.
Do I have to donate money?
Nein, die Teilnahme ist natürlich komplett kostenlos. Wir sind nicht darauf aus, Spenden zu sammeln. 
Is there a self-image?
For us, human and animal rights are directly related, so we oppose any kind of exploitation and discrimination. Our principles are non-violence, respect and tolerance. Furthermore, we act independently of political parties and religious views.
Message us!
Feel free to send us a message using the form or write to hallo@animals-voices.de, if you have any questions or would like to join our Facebook group. You can also follow us on social networks such as Facebook and Instagram:
  to the Facebook page
  to the Instagram profile